MOVIE INK. AMSTERDAM is happy to announce our next exhibit BLOW-UP OF ALL PROPORTIONS focusing on the artwork for Michelangelo Antonioni's BLOW-UP and the cultural fashions of its time. The opening will be Saturday, OCTOBER 25th from 4 to 7 PM in the gallery at the Palmdwarsstraat 40, 1015 HV, Amsterdam.
BLOW-UP THE MOVIE General opinion of Antonioni's sixties milestone seems to be love it or loath it. Either highly praised as the purest of free art cinema or merciless slammed as pretentious artsy-fartsy kitsch. Luckily I enjoy both at MOVIE INK. AMSTERDAM.
There's no need to go on and on about the film – you know how to google don't you? you just press your key and go- , still I'd like to comment on what the attraction is for  M.I.A. It's all about the camera again. Six years earlier in PEEPING <CLICK HERE> TOM the camera was a clinical, but user unfriendly weapon of an introvert loner in grubby London with its less than glamorous working girls, shifty news agents and below par film productions.
In BLOW-UP the trigger happy camera does serial damage in a very different London, snapping away indiscriminately at everything that moves (or doesn't…). And why not? This London has only blurred lines. Photographs of near inhuman working conditions sell just as well as glossy high fashion. Film, fashion, music and antiques blend together as never before. Happy days indeed, but other lines blur as well. Public places don't allow for privacy. Even killings can't be performed inconspicuously in a public park anymore …. – -No, no comments on our society of today….What is this world coming to? …. Ah well, luckily we still have the photographs. —
AND NOT ONLY PHOTOGRAPHS! There are also posters, lots of them in all sizes and colors and all zooming in on the relation between photographer and photographed. About those posters and photos and the cultural fashions more later in another post. First, I need to lure you to the Palmdwarsstraat 40 in Amsterdam.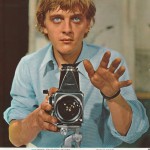 VOGUE!   It's going to be special. We want the same interaction from the movie at the opening, except for the free sex, drug abuse and killing. It would also be nice to bring the movie a bit into the now. So next to the usual mix of good music (with Herbie Hancock's < CLICK HERE> score for the movie as the focal point), drinks and nibbles, we do something different. As everybody's a star you, the public, is asked to pose in front of our biggest BLOW-UP poster and be immortalized by a professional photographer or photographers. Poses win prices. M.I.A. is blessed to have the right experts at shouting distance of the gallery and three of them agreed to form a jury. Think locally, act globally!
Fashion illustrator and art director PIET PARIS <CLICK HERE>, actress WYNN HELICZER < CLICK HERE> and model NIENKE VAN HOFSLOT <CLICK HERE> will be the pickers of the best poses. The ultimate poser will get the ultimate BLOW-UP of their photo as momentum. All photos will be posted on-line on a posers wall, subject to approval of course.
So, that's it really, BE THERE!
Wim at MOVIE INK. AMSTERDAM